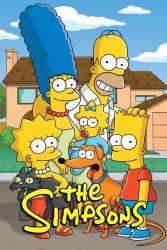 4 mistakes in And Maggie Makes Three
And Maggie Makes Three - S6-E13
Continuity mistake: When Homer remembers finding out that Marge was pregnant with Bart, he screams, tears out his hair and runs upstairs, past a picture of Lisa in the pink hat she wears to church. This mistake re-occurs seconds later when Homer remembers finding out Marge was pregnant with Lisa. Hard to have photos of Lisa on the wall before Bart and Lisa were even born...
And Maggie Makes Three - S6-E13
Continuity mistake: Bart comments on Homer's extreme reaction when he realised Marge was pregnant with Maggie. In the next flashbacks, when Homer reacts in the same way to hearing about Bart and Lisa, they are shown in the house at Evergreen Terrace both times. In Series 4, in the episode Lisa's First Word, they show that the Simpsons did not move to Evergreen Terrace until just before Lisa was born. Other episodes have also shown that Homer was with Marge at Doctor Hibbert's when she found out about her other pregnancies.
He's My Brother
And Maggie Makes Three - S6-E13
Plot hole: When Homer is seen at work in the flashbacks (before Maggie was born), he is at his usual control panel in sector 7-G, but he only began working here when Burns made him safety supervisor in season 1, "Homer's Odyssey". Before Maggie was born he should have been working at the conveyor belt with the carbon rods, where we saw him in the first couple of episodes.
Shay
And Maggie Makes Three - S6-E13
Continuity mistake: When Homer is trying to get Ned another woman in a different episode, he tells him that there was some footage of Maggie being born that he couldn't get rid of on the tape but in the scene (in this episode)when Maggie is being born there are no video cameras in sight.
More quotes from The Simpsons
More trivia for The Simpsons