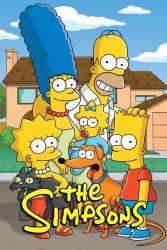 15 mistakes in Some Enchanted Evening
Some Enchanted Evening - S1-E13
Continuity mistake: Bart is shown sitting tied up on the couch and Ms. Botz walks in carrying a tied-up Lisa in her arms before dumping her on the sofa alongside Bart. You can see that the rope Ms. Botz has used to bind Lisa is wound right around her body from the neck right down to her ankles. A few shots later when Maggie comes down and frees her, the rope tying Lisa's legs together at the knees has disappeared.
AidanN
Some Enchanted Evening - S1-E13
Continuity mistake: When Ms Botz puts Bart and Lisa on the settee after tying them up, the telephone next to the settee is orange, but in the next shot it is now blue, and when Ms Botz goes to switch on the television, the telephone is orange again.
Some Enchanted Evening - S1-E13
Continuity mistake: When Homer is eating his breakfast at the start of the episode, there is some green food with his bacon and egg. But when the doughnut lands on his plate there is no green food, and when he is eating the doughnut, the green food is back again.
Join the mailing list
Separate from membership, this is to get updates about mistakes in recent releases. Addresses are not passed on to any third party, and are used solely for direct communication from this site. You can unsubscribe at any time.