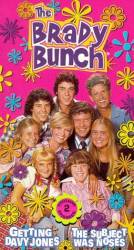 Snow White and the Seven Bradys - S5-E3
Audio problem: When the kids are painting a cardboard tree for the play, they ask their dad what he thinks of it. He then says "you better ask the two poodles next door." As he walks away he seems to almost trip/fall over something. Then the mom is heard laughing, even though she's not in the scene.
metalmark
Audio problem: Listen to the sounds as the family eats dinner; the same sound sequences keep playing. For example, one sequence of three quick taps of silverware on plates plays several times, followed by another sound that is difficult to identify. (00:21:15)
Jeff Swanson
The Hustler - S5-E21
Audio problem: Bobby is lining up a pool shot. There's a cut to Cindy, and as she says her line, the sound of pool balls being hit is heard. But when the pool table is shown again in the next shot, none of the balls have moved. Also the pool table moves from outside to inside. Lots of mistakes with the balls on the table throughout the game. (00:08:25)
Audio problem: Many times throughout this episode, the actors' voices echo, especially when Mike yells out to Peter (and vice versa) from different rooms.
Join the mailing list
Separate from membership, this is to get updates about mistakes in recent releases. Addresses are not passed on to any third party, and are used solely for direct communication from this site. You can unsubscribe at any time.