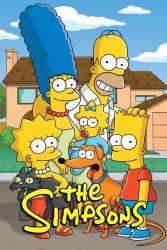 Revealing mistake: When everybody is in a big fight at the Do What You Feel Festival, watch out for a man in an orange shirt with black hair. His left eye keeps disappearing for one frame.
OL1V3R666
$pringfield (or How I Learned to Stop Worrying and Love Legalized Gambling) - S5-E10
Revealing mistake: At the dinner table Homer says something like "as you know it's always been my lifelong ambition to be a blackjack dealer." During this line, for some reason they appear to have used a clip from an older episode (Season 3 / Episode 3 - When Flanders Failed) and dubbed the line over. For one thing, the animation is of a much lower standard than the rest of the episode. And perhaps even more telling, when he says it, he is holding a fork with some food on it, but from the earlier shots we know there is no food in front of him.
David Mercier
Revealing mistake: When everyone is cheering for Ned at the neighborhood watch meeting, Apu's hand is yellow.
Revealing mistake: When Homer is on the news talk-show talking to the cat burglar, he puts his hand on his chest and the opening of his shirt appears over his hand.
Revealing mistake: When Moe grabs Ned Flanders' shirt at the bar, Ned's torso is incorrectly drawn over his arms as well as the mug he is holding. (00:10:50)
Dalek4Ever
Revealing mistake: The people waiting in line for the game are extremely crude drawings, some of them aren't even completely drawn, for example, some are missing arms, legs and other body parts.
Nikolai
Revealing mistake: In one angle when the Flanders are having dinner, Ned's eyeglasses have no temples.
Revealing mistake: When the man with the white helmet and flashlight asks Homer if he's holding on to the can in the vending machine, a large scratch appears near the upper right corner of the screen over the man's helmet.
Revealing mistake: When Homer pushes the soda vending machine next to the candy vending machine, a large scratch appears near the upper right corner of the screen.
Join the mailing list
Separate from membership, this is to get updates about mistakes in recent releases. Addresses are not passed on to any third party, and are used solely for direct communication from this site. You can unsubscribe at any time.