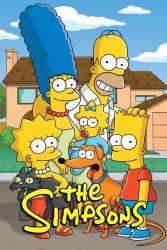 5 mistakes in Bart's Inner Child
Revealing mistake: When everybody is in a big fight at the Do What You Feel Festival, watch out for a man in an orange shirt with black hair. His left eye keeps disappearing for one frame.
OL1V3R666
Deliberate mistake: When Homer pushes the trampoline off the cliff, there is no rock below the falling trampoline. However, in the shot at the bottom a tall rock is visible which was drawn there on purpose for the trampoline to bounce off of, despite not being visible in the first shot.
OL1V3R666
Continuity mistake: When Homer and Marge are in bed Marge moves up and we can see she isn't wearing anything, but in the close up you can see that she is wearing her pyjamas - note the thing around her neck, then it's back to nothing.
Kane A R
Continuity mistake: At the "Do What You Feel" Festival, Homer shows up in his house robe, bear feet styled slippers, unshaven, and unbrushed hair. When he takes the float to save Bart, he's in his regular clothing of blue pants, white shirt, shoes, and clean shaven.
Movie Nut
Join the mailing list
Separate from membership, this is to get updates about mistakes in recent releases. Addresses are not passed on to any third party, and are used solely for direct communication from this site. You can unsubscribe at any time.