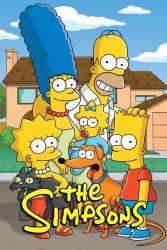 14 mistakes in Today, I am a Klown
Continuity mistake: In the Itchy and Scratchy cartoon 'A Briss Before Dying', Itchy throws Scratchy's eyes out of the window, but after putting the rest of his body through the grinder the eyes are back.
jle
Continuity mistake: After Homer pushes in front of Lisa in the queue for the bathroom, she loses the toothbrush she was holding in her left hand. (00:01:15)
jle
Continuity mistake: When Krusty enters the Jewish Walk of Fame building, there are no stars on the pavement outside it. When he leaves there are. (00:06:15)
jle
Continuity mistake: When Homer writes an autograph for Ralph at the restaurant, Lisa is sitting opposite Marge, has yellow liquid in her glass and has red and brown food on her plate. In the next shot, Lisa is opposite Homer, has a blue drink and has white and green food. (00:14:25)
jle
Continuity mistake: When Homer leaves the studio after being cancelled there is no sign next to the door. When Marge walks up to comfort him there is now a 'stage door' sign there. (00:18:35)
jle
Audio problem: When Marge says she wants the padding that goes under rugs her lip movements don't match what she's saying. (00:13:25)
jle
Continuity mistake: When Krusty ends up at his old neighbourhood, the street changes between shots. E.g. the "LLBeanie" sign appears above the door of the 2nd shop and the suit of the man reading the newspaper changes from grey to blue. (00:05:25)
jle
Continuity mistake: When we first see the medicine cabinet in the Simpson's bathroom the hinges are on the left. When Homer pokes it with the wire it opens as if the hinges are on the other side. The last time we see it, when Lisa rescues Maggie, the door is missing altogether. (00:01:25)
jle
Join the mailing list
Separate from membership, this is to get updates about mistakes in recent releases. Addresses are not passed on to any third party, and are used solely for direct communication from this site. You can unsubscribe at any time.