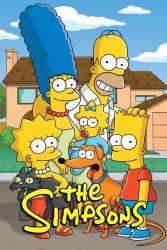 3 mistakes in In Marge We Trust
Factual error: You wouldn't hear a dial tone on one side of the phone line if the phone on the other side was cut from the receiver. You wouldn't hear anything.
Continuity mistake: During a shot of everyone at church, Carl is seen with a red sweater, after Homer says "Dammnit!", Carl's sweater turns blue.
Nikolai
Other mistake: When Ned Flanders is calling Marge and Reverend Lovejoy from the Leftorium, he says that the three hooligans are in the shop on their motorbikes. But a few minutes before when Ned goes outside the shop to tell the boys to clear off, their bikes are nowhere in sight.
Join the mailing list
Separate from membership, this is to get updates about mistakes in recent releases. Addresses are not passed on to any third party, and are used solely for direct communication from this site. You can unsubscribe at any time.