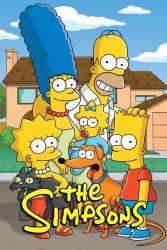 Continuity mistake: When the flashback of Ned and Todd Flanders singing in the Simpsons' doorway, Homer says he could use a TV tray. Then it goes back to the present time and Homer picks up a beer from the TV tray which is next to the couch. The TV tray was never there at any other point in the show. (00:10:40)
Continuity mistake: Rodd's hair is black when him and Todd are in bed singing. It can't be because it's dark, because Todd's hair is unchanged.
Continuity mistake: In one scene Bart is swinging on a washing line then we see Homer talk to Marge and he says "He'll soon get tired of it" then it goes back to Bart and he is facing the opposite direction and he is swinging on two washing lines.
Continuity mistake: After Krusty is done doing the special promotion commercial, he is given a telegram informing him of the Soviet boycott. However, this is a flashback, and at this point in time Krusty is illiterate (as will later be established in season 1) so he shouldn't be able to read the telegram.
Join the mailing list
Separate from membership, this is to get updates about mistakes in recent releases. Addresses are not passed on to any third party, and are used solely for direct communication from this site. You can unsubscribe at any time.