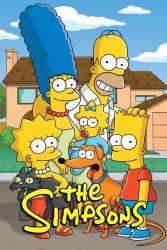 13 mistakes in Homer's Triple Bypass
Homer's Triple Bypass - S4-E11
Continuity mistake: Homer is interrupted from praying by a nurse who comes into his room and says, "Ssh." However, when she says this, the door is closed, and it is only in the next shot where the door is open immediately and she is pointing to the NO PRAYING sign.
Homer's Triple Bypass - S4-E11
Other mistake: In the beginning of the episode when Chief Wiggum orders a battering ram through the front door of a house, Reverend Lovejoy opens the door and questions what they are doing. Chief Wiggum says "isn't this 742 Evergreen Terrace?" to which Lovejoy replies that it's the house next door. In the next shot, you see Snake pulling out of the garage and speeding away. Everybody knows that 742 Evergreen Terrace is, in fact, the Simpson residence.
Homer's Triple Bypass - S4-E11
Continuity mistake: When, Lisa bangs on the window of the operating theatre, there is a person sitting behind her who is asleep. However, when she shouts to Dr Nick, the people behind her are completely different. Then she sits down again, and the sleeping person is behind her.
Homer's Triple Bypass - S4-E11
Continuity mistake: When Homer is eating the bacon and what looks like scrambled eggs after claiming Marge's oatmeal had a bug on it, the close up of the bacon shows that it is pink/purple and the eggs are yellow but the in the following shot, when Bart says, "Dad, there's a bug on that." the bacon and the eggs switch colours.
More quotes from The Simpsons
More trivia for The Simpsons
Join the mailing list
Separate from membership, this is to get updates about mistakes in recent releases. Addresses are not passed on to any third party, and are used solely for direct communication from this site. You can unsubscribe at any time.