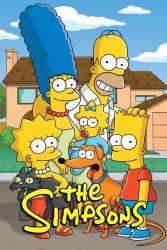 Treehouse of Horror XXI - S22-E4
Continuity mistake: In the second segment, as Roger is telling them about what happened to him, as he finishes the story of Marge and Homer saving him, in his recount Marge is wearing a shirt and bikini bottoms (the shirt is covering the bikini bra). But when they saved her, she was just wearing a bikini.
moviefan2345
A Midsummer's Nice Dream - S22-E16
Continuity mistake: The seating arrangements during the Cheech and Chong show keep changing between shots. Smithers is first seen sitting between Patty and Luigi, then he is between Louie and Legs, and then he is between Patty and Luigi again, then finally, he is sitting next to Mr Burns. And Miss Hoover is at first two rows in front of the Simpsons, then she is a row behind them when Homer is going to the stage.
Continuity mistake: Mr. Burns attempts to plan revenge on Springfield by placing the town in a dome. However when Lenny tells Burns it has already been done, Mr. Burns tells the helicopters to stop placing the dome. In this shot, both Burns' helicopter and the helicopters placing the dome are the same height off the ground. But in the following shot, the helicopters are now 50 feet above Burns' helicopter. (00:18:55)
Casual Person
Continuity mistake: In the scene where Smithers is showing Burns the bar, Smithers is in his grey suit. When Burns turns to talk to Grizzly Shaun, Smithers is wearing his standard green jacket and bow tie. Afterwards he is back in his grey suit.
MasterOfAll
Continuity mistake: Near the end when Homer is going into the show, he is not holding his coat. Then it appears in his hands and gets stolen. In the very next scene, he then wears his coat again. (00:19:40)
Hamosh86
Video
Continuity mistake: This is a mistake for the introduction from seasons 2-20 (1991-2009). When Homer screams, he turns round. You see this in a wide shot. There are no boxes to the right of the door in the garage. However, two just appear out of thin air when he runs through the garage. (00:01:50)
More mistakes in The Simpsons
More quotes from The Simpsons
More trivia for The Simpsons
Join the mailing list
Separate from membership, this is to get updates about mistakes in recent releases. Addresses are not passed on to any third party, and are used solely for direct communication from this site. You can unsubscribe at any time.