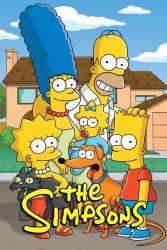 3 mistakes in Homer at the Bat
Continuity mistake: When Burns first shows the team the nerve tonic, the "&" on the 'Brain & Nerve Tonic' label is facing backward, but as Burns pulls it away it faces forward. Then as he moves it around as he's talking, the "&" switches between facing forward and facing backward again. This happens all in the one shot.
Audio problem: When we see Steve Sax driving, he says "What a nice little town" but his lips don't move.
OL1V3R666
Other mistake: In the end credits where it says, "Special Guest Voice", Marcia Wallace's name is there. Mrs. Krabappel was originally supposed to be in the episode but wasn't because Jose Canseco disliked his original part. He was originally slated to wake up in bed with her and miss the game, but Canseco's then-wife, Esther Haddad, objected. (00:29:00)
AAL117
Join the mailing list
Separate from membership, this is to get updates about mistakes in recent releases. Addresses are not passed on to any third party, and are used solely for direct communication from this site. You can unsubscribe at any time.