10 mistakes in Sanctuary: Part 2
Factual error: When Rogue attempts to correct the space shuttle's flight path, she has to let go because of the intense heat due to re-entry. Indeed, a temperature as hot as a shuttle in re-entry (upwards of 3,000° F) would have completely melted through her gloves, yet when she lets go, they only have a little smoke coming off them.
xx:xx:xx
Serious B
Other mistake: When Cortez is using the remote control for the power inhibitor collar to fend off Gambit and cause him pain, you can see that Cortez is actually pushing the "Mutant Power On" button and not the "Pain" button that's just above it.
xx:xx:xx
Serious B
Continuity mistake: The security footage of Cortez betraying Magneto is slightly different than the event itself. Cortez stated that Magneto would serve the mutant cause better as a martyr and then jettisoned his chambers into space. The security footage somehow has a shot of Magneto's chambers being jettisoned from a long distance with Cortez's martyr comment voiced over.
xx:xx:xx
Serious B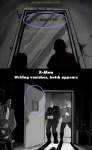 Continuity mistake: In the flashback during Magneto's memorial, when the Nazis are approaching his home it says "Lehnsherr" on the door. After they kick the door open, the writing on the door has disappeared and either a hatch or a small window has appeared on the door from nowhere.
xx:xx:xx
Serious B
Audio problem: When Fabian Cortez says "Mark my words X-Man. Before this day is done you will beg me to let you join us," his mouth movement is out of sync with the words "is done."
xx:xx:xx
Serious B
Continuity mistake: When Fabian Cortez is scapegoating Gambit in front of the mob, he grabs him by the blue clothing that lines the body armor on his chest. When he says to Gambit "Mark my words X-Man..." the blue clothing is now the same brown color as Gambit's trenchcoat.
xx:xx:xx
Serious B
Continuity mistake: When Rogue is asking about Gambit's whereabouts, she along with Beast and Xavier are close to the front of the shuttle. When the shot changes, the three of them as well as one of the astronauts are suddenly further back in the shuttle (note the doorway).
xx:xx:xx
Serious B
Factual error: Even though Xavier is a paraplegic, you can see him freely moving his legs when the astronaut helps him out of his seat and walk over to Beast.
xx:xx:xx
Serious B
Join the mailing list