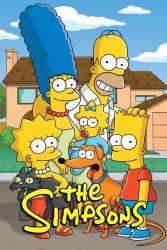 Tree House of Horror VI - S7-E6
Continuity mistake: In the 'Nightmare on Evergreen Terrace' segment, in Bart's dream you see a shadow of what looks like someone with four knife-fingers. Then when we see who it is, it is Willie holding a rake. But the rake has five tines, not four, so the shadow is wrong. (00:07:00)
Hamster
Tree House of Horror VI - S7-E6
Continuity mistake: In the 'Nightmare on Evergreen Terrace' segment, in Martin's dream, Willie emerges from the blackboard with a rake which has a wooden handle. When the shot changes the rake handle has changed to being metal. (00:08:25)
Hamster
Tree House of Horror VI - S7-E6
Continuity mistake: For most of "Homer3", Marge's shoes are red. When Frink explains that Homer is 3rd Dimension, Chief Wiggum says, "Slow down, egghead". During this shot, Marge's shoes are green. When Homer complains, Marge's shoes are back to red. (00:18:05)
Tree House of Horror VI - S7-E6
Continuity mistake: In 'A Nightmare on Evergreen Terrace', when the children are all discussing their dreams, Ralph's sling is blue. After the shot of Principal Skinner, Ralph's sling is white.
Tree House of Horror VI - S7-E6
Continuity mistake: During the 'Nightmare on Evergreen Terrace' segment, when Bart is running from Willie, he plans to sink Willie in the sandbox. In the first view of the sandbox it is isolated on a field, yet when Willie is sinking in the sand there is a jungle-gym beside the sandbox. (00:11:35)
Hamster
Join the mailing list
Separate from membership, this is to get updates about mistakes in recent releases. Addresses are not passed on to any third party, and are used solely for direct communication from this site. You can unsubscribe at any time.