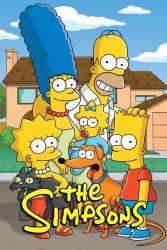 Continuity mistake: When the cops pin Krusty to the carpet, he moves further away from the yellow stripes between shots.
Continuity mistake: When Sideshow Bob is shouting and screaming just before he is taken away in a police van, Lisa and Bart swap places right before Bart says "Take him away, boys."
Continuity mistake: In the initial robbery at the Kwik-E-Mart, Apu doesn't realise what's going on until the fake Krusty demands the money from him. Yet in the video shown in court, he turns to face the fake Krusty right as Homer screams.
DaveJB
Continuity mistake: When we see the wide shot of Sideshow Bob being handcuffed, the reporter standing behind Bart and Lisa is wearing a purple jumper. But in the shot of Bart saying 'Take him away boys', the reporter is wearing a green jumper.
Continuity mistake: In "Krusty Gets Busted", Krusty's natural skin colour is established as yellow. In "Brush With Greatness" we see him wiping off the clown makeup to reveal that he has yellow skin. But in "Homer's Triple Bypass", he comes to visit Homer, with his white clown face, and tells him that "this isn't make-up". Other episodes after that also show that his skin is white.
Continuity mistake: When Homer reaches into the fridge to take out the tub of triple chocolate ice cream, we see it in a brown and white striped tub. When he lifts it out, it's turned into a plain pink tub and has shrunk considerably. (00:03:50)
Continuity mistake: When the burglar points the gun at Apu and says "Hand over all your money in a paper bag" Apu immediately replies "Yes, yes, I will". But when Bart sees this incident on TV later, the time between the burglar demanding the money and Apu replying "Yes, yes" is much longer.
Continuity mistake: After Sideshow Bob finishes reading his book and puts it on the table, the pages of the book change from yellow to red between shots.
Continuity mistake: When the store is being robbed, Homer throws his bag to the side and it lands face down near the stand of chips Homer jumps into. But when they are watching the video of this incident later, the bag is standing upright, far away from the spot it previously was at.
Continuity mistake: Before Krusty is arrested, he grabs a drink and there is no olive in it. When he sits down, an olive has appeared in the drink. (00:05:35)
Join the mailing list
Separate from membership, this is to get updates about mistakes in recent releases. Addresses are not passed on to any third party, and are used solely for direct communication from this site. You can unsubscribe at any time.