5 mistakes in The One With The Proposal, part 1
The One With The Proposal, part 1 - S6-E24
Visible crew/equipment: After Ross breaks up with Elizabeth, when she throws the water balloons at him and he starts walking away, a crew member's feet are seen standing on a windowsill behind Ross. Additionally, when Ross has exited the building, just as Elizabeth calls to him and he turns around we can see a crewmember, presumably standing beside the second camera, at the bottom left corner of the screen. We know it's not a passerby because he is as tall as the second story window behind him, which means he's elevated on a platform or ladder.
00:19:15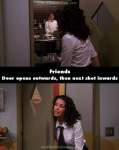 The One With The Proposal, part 1 - S6-E24
Continuity mistake: When the waitress opens the door to the kitchen to tell Monica about a complimentary customer, in the first shot the waitress pulls the door open and stands in front of it, but in the next shot she's pushing the swing door into the kitchen poking her head in to talk to Monica.
00:20:35
Super Grover
The One With The Proposal, part 1 - S6-E24
Visible crew/equipment: After Chandler tells Monica about the interesting website and fakes his opinion of marriage, right after Monica says, "Well, that's good to know," in the next wideshot the camera can be seen at the right side of the screen.
00:20:15
Super Grover
Join the mailing list
Addresses are not passed on to any third party, and are used solely for direct communication from this site. You can unsubscribe at any time.