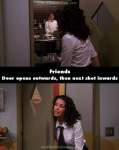 The One With The Proposal, part 1 - S6-E24
Continuity mistake: When the waitress opens the door to the kitchen to tell Monica about a complimentary customer, in the first shot the waitress pulls the door open and stands in front of it, but in the next shot she's pushing the swing door into the kitchen poking her head in to talk to Monica.
00:20:35
Super Grover
Join the mailing list
Addresses are not passed on to any third party, and are used solely for direct communication from this site. You can unsubscribe at any time.