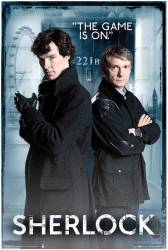 Continuity mistake: After receiving the third pip. Dr. Watson turns on the television to the news. During the news segment, it states the age of Connie Price as 48. Then in the scene immediately following, DI Lestrade says she was 54.
Continuity mistake: In the opening scene when John is going to the refrigerator, a white skull can be seen on the left side of the kitchen table amongst all Sherlock's science equipment. When he closes the refrigerator door again after discovering the severed head, the skull has disappeared. As he's leaving the kitchen, the skull reappears. (00:03:25)
Chitarra10
Continuity mistake: When Sherlock pulls the gun on Moriarty in the pool scene, he is holding it with two hands but then puts one hand down. In the next shot, he has two hands on the gun again. Then again in the next shot he only has one hand on the gun.
Continuity mistake: When Sherlock goes to look out the window at John leaving (after the tiff about the head in the fridge), his dressing gown is hanging off his right shoulder, exposing his t-shirt. Next there is a wider shot of him from behind, and his dressing gown is on straight, covering both shoulders properly. Then there's another closeup and it's off the right shoulder again. (00:05:40 - 00:06:10)
Aerinah
Continuity mistake: When Sherlock is backstage at the circus and finds the yellow spray paint, he draws a line on the mirror. In the next shot, the line he drew is completely different (and in fact is more of a squiggle). (01:07:40)
More mistakes in Sherlock
More quotes from Sherlock
More trivia for Sherlock