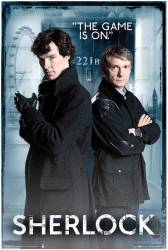 Continuity mistake: When Sherlock is backstage at the circus and finds the yellow spray paint, he draws a line on the mirror. In the next shot, the line he drew is completely different (and in fact is more of a squiggle). (01:07:40)
Continuity mistake: When Sherlock and Watson first get to the bank, the time for New York is 7:45, then when Sherlock is trying to find out who the message is for, the time for New York is 7:20.
Continuity mistake: In the opening scene when John is going to the refrigerator, a white skull can be seen on the left side of the kitchen table amongst all Sherlock's science equipment. When he closes the refrigerator door again after discovering the severed head, the skull has disappeared. As he's leaving the kitchen, the skull reappears. (00:03:25)
Chitarra10
Continuity mistake: Early in the episode Sherlock and Dr. Watson enter a cab in daylight for a ride to the crime scene in Brixton, which is a part of greater London. It is night when they arrive.
bnemirow
Continuity mistake: When Sherlock pulls the gun on Moriarty in the pool scene, he is holding it with two hands but then puts one hand down. In the next shot, he has two hands on the gun again. Then again in the next shot he only has one hand on the gun.
Continuity mistake: As Sherlock and Watson come out of their apartment to hail a taxi to be taken to Brixton and the scene of a murder, two extras can be seen in the shot - one crossing the road and one walking up the far side of the street. At the top of the street there are two white colored cars, but they suddenly disappear, to be replaced by a dark colored car. Also the light of the building across the road is suddenly turned on.
Charlie McGee
Continuity mistake: When Sherlock goes to look out the window at John leaving (after the tiff about the head in the fridge), his dressing gown is hanging off his right shoulder, exposing his t-shirt. Next there is a wider shot of him from behind, and his dressing gown is on straight, covering both shoulders properly. Then there's another closeup and it's off the right shoulder again. (00:05:40 - 00:06:10)
Aerinah
Join the mailing list
Separate from membership, this is to get updates about mistakes in recent releases. Addresses are not passed on to any third party, and are used solely for direct communication from this site. You can unsubscribe at any time.