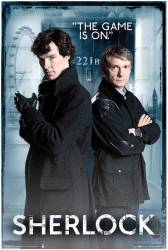 0 mistakes in show generally
John Watson: I just met a friend of yours.
Sherlock Holmes: A friend?
John Watson: An enemy.
Sherlock Holmes: Oh. Which one?
John Watson: Your arch-enemy, according to him. Do people have arch-enemies?
Sherlock Holmes: Did he offer you money to spy on me?
John Watson: Yes.
Sherlock Holmes: Did you take it?
John Watson: No...
Sherlock Holmes: Pity, we could have split the fee. Think it through next time.
Cubs Fan
More quotes from Sherlock
More trivia for Sherlock
Question: Which episode contains the line "I'm not insulting you, I'm describing you?" Google searches turn up nothing but the quote itself, and no further information on the episode or the rest of the scene. If anyone knows the line that led up to it, that would be even better.
More questions & answers from Sherlock