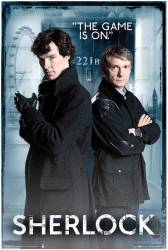 0 mistakes in Season 3 generally
More quotes from Sherlock
Trivia: When Moriarty is stealing the Crown Jewels, Andrew Scott ad-libbed dancing in time to the classical music he is listening to.
Cubs Fan
More trivia for Sherlock
Question: Which episode contains the line "I'm not insulting you, I'm describing you?" Google searches turn up nothing but the quote itself, and no further information on the episode or the rest of the scene. If anyone knows the line that led up to it, that would be even better.
Captain Defenestrator
More questions & answers from Sherlock