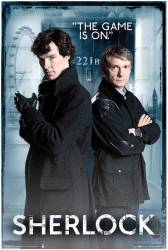 2 mistakes in Many Happy Returns
Continuity mistake: The underground car seen in the CCTV video is a different car design from the one where the heroes defuse the bomb (central line design vs another design). The rounded doors is the most visible proof.
Factual error: A jury in Hamburg is asked if Mr Troppoff is guilty. There are no juries at all in the German court system.
Join the mailing list
Separate from membership, this is to get updates about mistakes in recent releases. Addresses are not passed on to any third party, and are used solely for direct communication from this site. You can unsubscribe at any time.