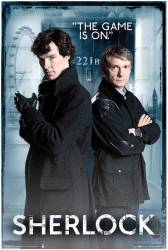 Continuity mistake: The underground car seen in the CCTV video is a different car design from the one where the heroes defuse the bomb (central line design vs another design). The rounded doors is the most visible proof.
His Last Vow - S3-E4
Continuity mistake: In the scene in the lab where they're testing Sherlock for drugs, Sherlock stands with his arms folded, then down, then folded, then down. Molly goes to reproach him, his arms are folded. The slaps somehow happen with his arms down.
His Last Vow - S3-E4
Factual error: Sherlock takes pains to explain in detail that he will deliberately corrupt the magnetic code stripe on an access control card he intends to use to enter the elevator to the villain's penthouse, by carrying it next to an operational cell phone. (This is possible due to the low frequency magnetic field from a phone's vibration motor.) But when he actually goes to access the elevator, he simply touches his access card to the reader instead of swiping or inserting the card through a slot, which is how a magnetic stripe reader would operate. The elevator uses an RFID proximity reader, not a magnetic stripe reader - a phone wouldn't corrupt an embedded RFID tag.
Stringman
His Last Vow - S3-E4
Other mistake: The helicopter that takes Sherlock and Watson to Magnussen's house is the same one Mycroft arrives in later. Tail number G-VGMG.
Continuity mistake: As Sherlock and John approach the missing subway car, and especially as they bend to peer beneath it, the interior of the car to a distance of several feet is plainly visible through the window of the door (you can see the curved ceiling inside and some unlit fluorescent light bars). However, an interior shot then shows that there is a closed door inside the car, a foot or so inside the exterior door, that Sherlock has to push open to enter the car proper. This door should have blocked their view of the inside of the car before they entered. It didn't, so it has gone from open to closed between shots without anyone touching it. (01:05:35)
Aerinah
His Last Vow - S3-E4
Continuity mistake: When Sherlock is being rushed to the hospital, when the paramedic rips open his shirt the body has body hair, but all the topless scenes following show that Cumberbatch has a hairless chest.
whatfriedrice
Factual error: In "The Bloody Guardsman" case, Bainbridge, who is in the Welsh Guards, is referred to by everyone, including himself, as "Private Bainbridge." The Foot Guards use the rank of Guardsman instead of Private.
Necrothesp
Continuity mistake: The train carriage that disappears is a Jubilee line carriage. These trains have the bars inside them painted bright yellow. However, later on in the episode when Sherlock discovers the disappeared carriage, it has magically turned into a District line carriage (the bars inside are bright green).
swordfish
Continuity mistake: The scene where Sherlock says "Vatican Cameos" he is seen to be facing the right side of the shot. Yet in the shot before that he is facing the left side of the shot from the back.
Sukhdeep Singh
His Last Vow - S3-E4
Plot hole: Sherlock enters Magnussen's quarters after Janine lets him in, believing he is going to propose to her. 12 minutes later (which, in film time, is several days later) she is enjoying her "revenge with profits" on Sherlock because she knows his proposal pretext was a lie. Problem: There is no way she could have found that out. She was out cold moments after letting Sherlock in, and Sherlock himself was shot by an assailant, which he had misidentified, before giving his intention away. Someone could have suggested it to her but he or she would have had a very hard time, because it's their words against Sherlock's. The only people whose words would have been more credible because of being on scene are Watson (who wouldn't tell) and Magnussen (whom Janine knows to be in the premium lying business). In fact, if I were the director, I wouldn't bother making up a motive for being a "grasping, opportunistic, publicity-hungry, tabloid whore" (film's own quote). This is ipso facto a motive. People love "profits", not just "revenge with profits." (00:31:00 - 00:43:00)
FleetCommand
Factual error: A jury in Hamburg is asked if Mr Troppoff is guilty. There are no juries at all in the German court system.
Factual error: In "The Bloody Guardsman" case, the guardsmen are on sentry duty unarmed. Sentries always carry rifles.
Necrothesp
Continuity mistake: Sherlock is dancing with the bridesmaid towards the end. When they stop and are talking with Watson, Sherlock's hands keep switching from being behind him to in front of him, depending on the camera angle.
Jon Sandys
Factual error: The entire reason Sherlock takes up the case is because he is intrigued how a man managed to disappear from a tube carriage in between stations - it appears to be impossible to do. However, any Londoner will tell you that it is perfectly simple to do: all tube carriages have doors between them linking them. So if the man wanted to leave the carriage between stations, he'd just use the door at the end of the carriage. The train employee would not be puzzled by this, nor would Sherlock consider the case worthy of his time.
swordfish
Join the mailing list
Separate from membership, this is to get updates about mistakes in recent releases. Addresses are not passed on to any third party, and are used solely for direct communication from this site. You can unsubscribe at any time.