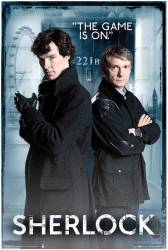 Revealing mistake: When they are watching for vases, the auction website has no proper domain. It is loaded locally from the C:\ drive. (00:55:00)
Revealing mistake: In the bank where Sherlock is trying to get a view of the painting with the Chinese numbers, he backs into a pillar, which wobbles. (00:11:25)
59211john
Revealing mistake: While Watson and Sherlock talk about the deceased banker and the crime scene photographer takes pictures of the dead body you can see the "corpse" breathing, as the buttons on his waistcoat are moving. (00:14:50)
Revealing mistake: Before John Watson closes the laptop, the screen displays a phone tracking website in the Chrome web browser, supposedly at Mephone.org.uk. In the URL address bar, however, "file:///C/http/mephone.org/mephone.html" is visible which is a standalone HTML file on the computer's hard drive. (01:08:35)
Revealing mistake: The banker shoots himself with a Sig 226R. When you see it lying on the bed it has a screw missing from the grip. In the first episode, Watson has a gun in his desk drawer. It is a Sig 226R also with a screw missing from the grip. Obviously they only have one prop gun.
Revealing mistake: When you see Sherlock and Watson in the museum, Sherlock leaves and nearly gets shot. You see him dive behind the large statue, which moves. That's unusual for a large statue, but looking closer, you can see there are wheels attached to the base. (00:49:35)
59211john
Join the mailing list
Separate from membership, this is to get updates about mistakes in recent releases. Addresses are not passed on to any third party, and are used solely for direct communication from this site. You can unsubscribe at any time.