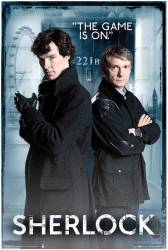 5 mistakes in The Great Game
New this month Character mistake: In the opening scene, Sherlock makes a point to correct Barry's poor grammar. But later, when talking to Watson, Sherlock uses poor grammar by saying "who's sleeping with who." It should be "who's sleeping with whom." Not a mistake Sherlock would make.
Bishop73
Continuity mistake: In the opening scene when John is going to the refrigerator, a white skull can be seen on the left side of the kitchen table amongst all Sherlock's science equipment. When he closes the refrigerator door again after discovering the severed head, the skull has disappeared. As he's leaving the kitchen, the skull reappears. (00:03:25)
Chitarra10
Factual error: In a couple of scenes with the mobile phone when Sherlock is talking to the girl and she hangs up, the soundtrack has a audible "dial tone" inserted. Mobile phones don't have dial tones.
Continuity mistake: When Sherlock pulls the gun on Moriarty in the pool scene, he is holding it with two hands but then puts one hand down. In the next shot, he has two hands on the gun again. Then again in the next shot he only has one hand on the gun.
Continuity mistake: When Sherlock goes to look out the window at John leaving (after the tiff about the head in the fridge), his dressing gown is hanging off his right shoulder, exposing his t-shirt. Next there is a wider shot of him from behind, and his dressing gown is on straight, covering both shoulders properly. Then there's another closeup and it's off the right shoulder again. (00:05:40 - 00:06:10)
Aerinah
Join the mailing list
Separate from membership, this is to get updates about mistakes in recent releases. Addresses are not passed on to any third party, and are used solely for direct communication from this site. You can unsubscribe at any time.