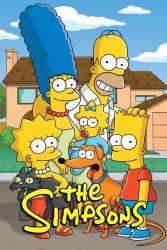 Tree House of Horror V - S6-E6
Question: Homer travels back in time and causes changes by what he does in the past, like stepping on a bug. I once saw a movie with the same basic plot: some people travel back in time and are told to be careful not to disturb anything, but when they return to their time everything has changed. In the end they discover it was because they stepped on a butterfly. Does anyone know the name of this movie?
Question: Do "Bart to the future" and "Lisa's wedding" episodes share the same continuity? I only saw second one and I'd like to know if president Lisa is the same Lisa who was in love with Hugh, or Bart who has a band with Ralph the same Bart who used to demolish buildings etc? Or are they just independents predictions without connections? I'm not even asking about Future-Drama, because it'd be weird at this point, Lisa graduating in high school in 2013 and being at university in 2010.
Who Shot Mr. Burns? (1) - S6-E25
Question: When Lisa goes up to turn on the oil pump for the first time, there is a sound between Skinner saying, "Here's our top student, Lisa Simpson", and Lisa actually getting to the pump. It sounds like someone straining. What is it?
Question: In the scene where Bart was about to get kicked by the Australian Prime Minister Bart jumps forward. After that he says "...and this is for the United States of America." He shows his butt with the words "Don't tread on me" and hums the American national anthem. Does this imply that America can get away with anything or was there a different message being implied?
Question: When Milhouse meets his Shelbyville double, he tearily says "So this is what it feels like when doves cry." Could someone explain this reference to me?
Video
Continuity mistake: This is a mistake for the introduction from seasons 2-20 (1991-2009). When Homer screams, he turns round. You see this in a wide shot. There are no boxes to the right of the door in the garage. However, two just appear out of thin air when he runs through the garage. (00:01:50)
More mistakes in The Simpsons
More quotes from The Simpsons
More trivia for The Simpsons
Join the mailing list
Separate from membership, this is to get updates about mistakes in recent releases. Addresses are not passed on to any third party, and are used solely for direct communication from this site. You can unsubscribe at any time.