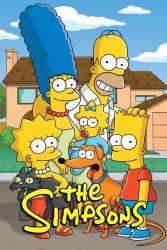 3 mistakes in The Springfield Files
The Springfield Files - S8-E10
Continuity mistake: At the kitchen table, when Homer talks about getting mocked on his own birthday, they're eating breakfast. But when Marge, Lisa, Bart and Maggie all go to pet Santa's Little Helper, the breakfast has vanished.
Hamster
The Springfield Files - S8-E10
Continuity mistake: When the 'alien' is seen on the news, it is shown on the film Bart made coming out of the trees, but earlier on, when the alien came out of the woods, Bart is seen not holding the video camera.
Join the mailing list
Separate from membership, this is to get updates about mistakes in recent releases. Addresses are not passed on to any third party, and are used solely for direct communication from this site. You can unsubscribe at any time.