7 mistakes in A Knight to Remember
Plot hole: Piper is initially skeptical at Phoebe's theory that the Evil Enchantress could be Paige in a past life, because Paige lacks the Enchantress' ability to summon the elements. However, Piper knows that in Phoebe's past life she had a pyrokinetic power, which she does not have in the present.
DavidK93
Plot hole: According to Paige's "fairy tale" the witch ends up with the prince. If this is really a past life, the sorceress ended up with the prince in the Middle Ages. So why do they have to fix it? Everything was just going the way it did according to her fairy tale, and good magic was obviously still present in the world.
Revealing mistake: When the prince is supposed to be frozen on Paige's living room couch, when they do a close-up you can see the actor blink.
Continuity mistake: When Phoebe picks up the cordless phone to call Paige before the Shocker Demon attacks for the first time, the cordless phone is white but then after the attack, when the cordless is on the floor, it's black.
Plot hole: Paige is able to use the enchantress' powers, but in "Pardon my Past", Phoebe can't use her past life's fire throwing power and Leo tells her it's because her past life misused it so she lost it. The enchantress misused her powers so Paige should not be able to use them.
brianjr0412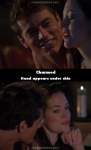 Continuity mistake: When Paige is telling Glen the evil enchantress story, her hand suddenly appears under her chin. (00:01:15)
Cubs Fan
Join the mailing list
Separate from membership, this is to get updates about mistakes in recent releases. Addresses are not passed on to any third party, and are used solely for direct communication from this site. You can unsubscribe at any time.