Continuity mistake: At Sebastian's place, when Roy kisses Pris on the nose, the powder covering her face and her nose transfers from Pris to Roy, so now Pris's nose is void of powder, but a few seconds later, the powder returns.
Continuity mistake: Just before Roy kills Tyrell, he says "Nothing the god of Bio-Mechanics wouldn't let you into heaven for." A drop of sweat begins to hang down off Roy's nose, about to fall. The camera changes angles and suddenly the drop has vanished. (01:25:35)
Quantom X
Continuity mistake: As Deckard is setting up the VK to test Rachel, one shot shows him adjusting the eye piece with his thumb as she asks if she can smoke. The view from behind his hand shows his thumb up towards the top of the eye piece. But then the film cuts to a view of the other side and Deckard's thumb is now towards the middle of the eye piece. (00:19:55)
Quantom X
Continuity mistake: The Asian chef calls Deckard over to order his food once a seat becomes available. There is a guy in a yellow shirt sitting next to the open seat. A blue bottle of some sorts is right next to this guy's arm. When Deckard comes over, the blue bottle has vanished. It appears again once Deckard sits down to his left by the yellow guy's arm. And then after the chef gives Deckard his food, the blue bottle is suddenly on Deckard's right. (00:09:05)
Quantom X
Continuity mistake: While waiting in the rain for his food, the chef across the street calls Deckard to come over. Deckard folds his newspaper and puts it over his head to shield himself from the rain. The paper is folded messily and the crease side is in his hand. When he gets to the other side of the street, the fold is suddenly much cleaner and neat, and the crease side is on the outside, no longer in his hand. (00:09:00)
Quantom X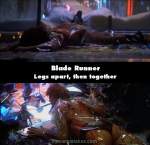 Continuity mistake: When Zhora collapses after being shot by Deckard, her legs are spread apart, but when Deckard approaches seconds later, her legs are suddenly together.
Continuity mistake: When Deckard shoots Zhora and she crashes through the window dead, her hands are above her head, but when Deckard walks up to her body her hands are now halfway up her body.
Continuity mistake: When Pris is fighting Deckard in the apartment, in some shots she is wearing pantyhose, but in other shots her legs are bare.
Continuity mistake: When Deckard is snooping about in Zhora's dressing room asking questions. We see her putting on high heel mid-calf boots (just under her shin pads). Watch the chase sequence soon after. Especially when she gets shot and is on the ground picking herself up, you can see she is wearing what looks like black trainers. (00:52:10 - 00:55:40)