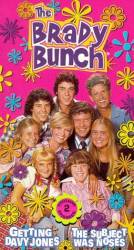 1 mistake in Getting Greg's Goat
Continuity mistake: During the goat in the master bedroom scene, the flowers on Carol's side of the bed change during the scene. At first there is a pink flower to the right of a white flower, and then it changes to white flower on right of the pink one. In addition, the whole bouquet looks slightly different in different shots.
Join the mailing list
Separate from membership, this is to get updates about mistakes in recent releases. Addresses are not passed on to any third party, and are used solely for direct communication from this site. You can unsubscribe at any time.