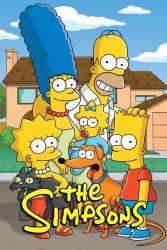 2 mistakes in Special Edna (a.k.a. Love and Marking)
Special Edna (a.k.a. Love and Marking) - S14-E7
Deliberate mistake: When Bart and Edna are watching "Holes" in the IMAX theater, Edna sighs and pulls out a locket which we can see the back of. After opening it up to reveal pictures of her and Seymour, we find out its actually a triptych when she opens up another image of Seymour's mother. From the way she unfolds this extra picture, Seymour's mother would have had to be facing outwards, but in the previous shot the back of the locket was blank.
Special Edna (a.k.a. Love and Marking) - S14-E7
Factual error: During the video screening at the Teacher of the Year committee, the panel is watching the teacher who acts like Robin Williams. In the video the main judge says "Next" and pushes a button on the video control. It goes to the video that Bart Simpson sent in. How was this possible? The video control would only fast forward the video and two separate entries would not be sent in on the same tape. The committee wouldn't have spliced the footage together onto the same tape as the tapes were piled up on the desk. At the start of the scene one of the judges mentions to put in the next tape.
Lummie
Join the mailing list
Separate from membership, this is to get updates about mistakes in recent releases. Addresses are not passed on to any third party, and are used solely for direct communication from this site. You can unsubscribe at any time.