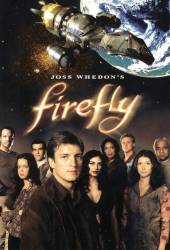 Out of Gas - S1-E5
Trivia: Wash sets up a big red button for Mal to push to call back the shuttles if help arrives. He tells him "When your miracle gets here, just hit this button". After the show got cancelled, Alan Tudyk sent the button to Joss Whedon with the same message enclosed.
Trivia: When the crew returns from their raid of the Alliance hospital, Malcolm grabs Kaylee from behind and holds her in a friendly hug. This was improvised by Nathan Fillion, and was left in the shot because Joss Whedon felt it was such a natural movement for Malcolm to make. (00:37:00)
Cubs Fan
Trivia: As Mal is bringing the shuttle in to land at the floating luxury home, as he flies to the left of a tower towards the gardens, behind them flying from right to left is the unmistakable silhouette of an SR-71 Blackbird cruising by. Given that this is a planet for the super rich and the heist is of a well known collector of old Earth artifacts, maybe this plane is part of another collector's collection, like John Travolta and his small fleet of planes including an airliner and other exotic aircraft.
Trivia: According to Joss Whedon and Nathan Fillion in the DVD audio commentary, Whedon had originally written the role of Badger for himself.
Cubs Fan
Join the mailing list
Separate from membership, this is to get updates about mistakes in recent releases. Addresses are not passed on to any third party, and are used solely for direct communication from this site. You can unsubscribe at any time.