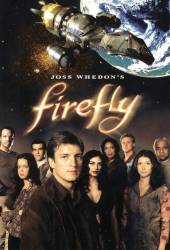 4 mistakes in The Train Job
Continuity mistake: In the final shot of Serenity leaving Regina near the end, the lights on the port (left) and starboard (right) sides of the ship are reversed - the port lights are green when they should be red and the starboard lights are red when they should be green.
THGhost
Continuity mistake: After the opening credits River wakes up from a nightmare. She knocks over a rolling tray and some objects fall off it onto the floor. The position of the tray and the objects left on it changes between shots.
THGhost
Revealing mistake: In the scene where Mal and Zoë exit the train, look closely at the woman in the yellow veil to the left of the screen holding a baby - she walks into a passing vehicle knocking her baby on its head (revealing it is really a doll).
THGhost
Continuity mistake: When Mal is fighting Crow on the ship, he falls over the containers of medical supplies, knocking some of them over. A few shots later when Jayne shoots Crow, the containers are standing upright again.
THGhost
Join the mailing list
Separate from membership, this is to get updates about mistakes in recent releases. Addresses are not passed on to any third party, and are used solely for direct communication from this site. You can unsubscribe at any time.