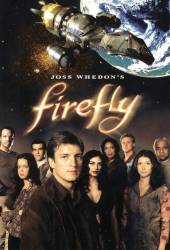 Revealing mistake: Toward the beginning of the episode, when we first see Inara at the controls of her shuttle, she is holding the steering wheel upside down as she flies away.
THGhost
Bushwhacked - S1-E2
Revealing mistake: As Mal rolls the survivor of the derelict transport onto the floor, the survivor moves his left hand onto his chest when he is supposed to be unconscious.
THGhost
War Stories - S1-E9
Revealing mistake: During the firefight on Niska's ship, when Simon sees a guard coming and says to Sheppherd Book, "Book, we, uh-", a dead guard on the floor moves his legs as the guard that Simon saw fires his weapon. (00:37:10)
THGhost
Revealing mistake: When Nandi confronts Rance stealing the baby, it is a plastic doll and not a live child in his arms. (00:35:40)
Revealing mistake: In the scene where Mal and Zoë exit the train, look closely at the woman in the yellow veil to the left of the screen holding a baby - she walks into a passing vehicle knocking her baby on its head (revealing it is really a doll).
THGhost
Revealing mistake: In the scene where Simon's dad bails him out of prison, there is one shot showing a very long corridor. It is only seen in this one shot, doesn't appear to have any depth to it and there are no people walking in it. That's pretty unlikely for an Alliance prison. I'm thinking that it is a backdrop.
THGhost
Revealing mistake: When the camera follows a man through a curtain to reveal the Eavesdown Docks on Persephone, an extra in a white shirt, black vest and straw hat can be seen standing still on the left looking straight into the camera. He then looks away and starts walking. He was waiting for his cue from the director. Several seconds later, the same extra is seen again behind Mal and Kaylee walking in the opposite direction he was just going, giving the impression that the scene wasn't filmed on a location but in fact a small set and they could only afford so many extras.
THGhost
Join the mailing list
Separate from membership, this is to get updates about mistakes in recent releases. Addresses are not passed on to any third party, and are used solely for direct communication from this site. You can unsubscribe at any time.