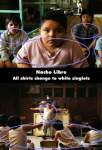 Continuity mistake: In the scene when Jack Black is about to be unmasked and the kids are watching his match on TV, Chancho goes to to cover the TV. He is wearing a pink shirt but in the shot of him covering the TV he is wearing a white singlet.
Add time
Deliberate mistake: Several of the matches Nacho loses, he should actually have won. In Mexican pro wrestling, it is illegal to rip another's mask off, and results in immediate disqualification. This happens twice to Nacho, both in the fight with the midgets and in the final against Ramses.
Add time
Twotall
Continuity mistake: In the scene where Nacho is supposed to beat up the guys on his date with the nun, he's stretching by the wall. He sees two guys coming and jumps over to grab her. When he first grabs her, her left arm is free, but in the close up shot directly afterwards, her arms are both inside his.
00:38:40
---
---
---
Join the mailing list
Addresses are not passed on to any third party, and are used solely for direct communication from this site. You can unsubscribe at any time.