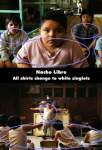 Continuity mistake: In the scene when Jack Black is about to be unmasked and the kids are watching his match on TV, Chancho goes to to cover the TV. He is wearing a pink shirt but in the shot of him covering the TV he is wearing a white singlet.
More mistakes in Nacho Libre
More movie quotes
Join the mailing list
Separate from membership, this is to get updates about mistakes in recent releases. Addresses are not passed on to any third party, and are used solely for direct communication from this site. You can unsubscribe at any time.