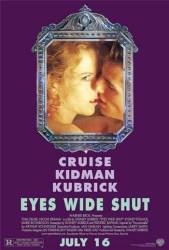 Question: Isn't it common knowledge that Nicole found Tom's mask and put it on his pillow? I always wondered why Tom freaked out so much when he finds it. Is he afraid that Nicole knows where the mask is used? Or that someone else placed it there? And unless I missed something, how come this was never discussed between the two? You'd think Nicole would be asking why he left this in his safe?
Ral0618
Question: Tom Cruise is a Manhattan doctor living on Central Park West. We can see in the movie it's a large, beautiful apartment. To buy a Central Park West apartment of this type is in the range of 5 to 12 million dollars. Being a doctor he's highly educated. Why don't the rich people in the naked group want him as a member? He the perfect recruit.
Question: There are two things I don't understand about the mask party. One, why go through all the ceremonial, quasi-religious rituals with mask and cape, priest, smoke, organ, etc? Why not just show up and have an orgy? Second, how did the masked woman know that Tom Cruise didn't belong there if he was masked himself?
Question: One of the mistakes says there's a newspaper that Tom Cruise reads that has the same sentence written over and over. Is this a reference to the Shining by the production?
Visible crew/equipment: In a scene not too long after Tom Cruise attempts to revive a hooker who has OD'd, he is speaking with an older gentleman. The three are in a bathroom and the hooker is passed out on a chair. One of the shower or light fixtures toward the left of the screen is shiny, and in a shot during which the camera briefly tracks in reverse, you can see the camera, cameraman and the focus puller reflected. It's pretty clear and not all that fast.
More mistakes in Eyes Wide Shut
Alice Harford: When she is having her little titties squeezed, do you think she ever has any fantasies about what handsome Dr. Bill's dickie might be like?
More quotes from Eyes Wide Shut
Trivia: The strange incantation heard at the beginning of the orgy scene is a fragment of a Romanian Orthodox Church sermon played backwards. If you play it backwards you'll notice that there are two main voices (in the movie is supposed to be only one - the voice of the "great priest") and a choir.
More trivia for Eyes Wide Shut
Join the mailing list
Separate from membership, this is to get updates about mistakes in recent releases. Addresses are not passed on to any third party, and are used solely for direct communication from this site. You can unsubscribe at any time.