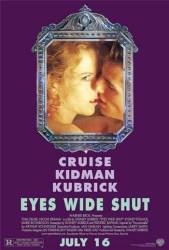 Trivia: The strange incantation heard at the beginning of the orgy scene is a fragment of a Romanian Orthodox Church sermon played backwards. If you play it backwards you'll notice that there are two main voices (in the movie is supposed to be only one - the voice of the "great priest") and a choir.
Trivia: Christiane Kubrick, Stanley's wife, has a cameo as the woman sitting behind Dr. Harford at Café Sonata.
wizard_of_gore
Trivia: The actor who played Nick Nightingale (Dr. William 'Bill' Harford's medical school dropout friend), played a medical school dropout in "Gross Anatomy" (1989).
Trivia: The room of the morgue visited by Bill in this film is in wing C, room 114 - a reference to C-114 which was name of the decoding machine in Kubrick's film "Dr. Strangelove".
Trivia: Kubrick pushed Sydney Pollack to his limits while filming Eyes Wide Shut. Pollack asked how Kubrick wanted him to walk across a room to answer a door. Kubrick said "I don't know, you decide'. Pollack kept trying different ways for the next two days, waiting for Kubrick to approve. Eventually, exhausted, Pollack said he was satisfied, and Kubrick replied 'I wondered how much longer it would take you'.
Jennyred
Trivia: During the scene where Tom Cruise is talking to Nick at the Sonata Cafe, you can see the director Stanley Kubrick sitting at a nearby table.
Visible crew/equipment: In a scene not too long after Tom Cruise attempts to revive a hooker who has OD'd, he is speaking with an older gentleman. The three are in a bathroom and the hooker is passed out on a chair. One of the shower or light fixtures toward the left of the screen is shiny, and in a shot during which the camera briefly tracks in reverse, you can see the camera, cameraman and the focus puller reflected. It's pretty clear and not all that fast.
More mistakes in Eyes Wide Shut
Dr. Bill Harford: Was it the second password? Is that what gave me away?
Victor Ziegler: Yes, finally. But not because you didn't know it. It was because there was no second password. Of course it didn't help you too much that those people arrived there in limos... and you showed up in a taxi. Or that when they took your coat, they found the receipt to the costume from the rental house in your pocket made out to you-know-who.
More quotes from Eyes Wide Shut