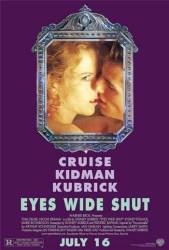 Revealing mistake: There are a number of scenes in the city where a letterbox is shown. Watch this postbox and the graffiti on it - the same box is used in 3 different places. (I think it's shown outside the hotel and outside the costume shop.)
Revealing mistake: As Tom Cruise's character is in the morgue to find out about the now dead prostitute who helped him out, the corpse moves.
Revealing mistake: Just after Bill consoles the lady for her father's death, he strolls about a New York street late in the evening. One shot has the camera dollying backwards as it follows Bill down the sidewalk, and as it does the camera's own shadow is cast on the sidewalk, just to the left of actor Tom Cruise. But just as interestingly, the angle of the shadow is such that Cruise ought to be casting his own shadow, but there is none. Cruise has been photographed against a process screen, then added to the background in post-production. (00:45:55)
Revealing mistake: That's the most fake newspaper I've ever seen. It's printed on a heavier weight paper than a real New York newspaper. (02:05:20)
????
Visible crew/equipment: In a scene not too long after Tom Cruise attempts to revive a hooker who has OD'd, he is speaking with an older gentleman. The three are in a bathroom and the hooker is passed out on a chair. One of the shower or light fixtures toward the left of the screen is shiny, and in a shot during which the camera briefly tracks in reverse, you can see the camera, cameraman and the focus puller reflected. It's pretty clear and not all that fast.
More mistakes in Eyes Wide Shut
Gayle: Do you know what's so nice about doctors?
Dr. Bill Harford: Usually a lot less than people imagine.
Gayle: They always seem so knowledgeable.
Dr. Bill Harford: Oh, they are very knowledgeable about all sorts of things.
Gayle: But I bet they work too hard. Just think of all they miss.
Dr. Bill Harford: You're probably right.
More quotes from Eyes Wide Shut
Trivia: The strange incantation heard at the beginning of the orgy scene is a fragment of a Romanian Orthodox Church sermon played backwards. If you play it backwards you'll notice that there are two main voices (in the movie is supposed to be only one - the voice of the "great priest") and a choir.
More trivia for Eyes Wide Shut