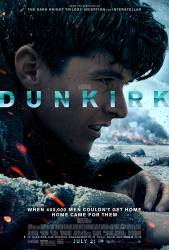 Other mistake: In the scene at the end where Farrier gazes upon his burning Spitfire on the beach, the propeller appears to be supported at the end of a simple rod. In fact the propeller would have been attached to a rather solid engine. There's also no internal structure - the entire spitfire was reduced to ashes which was impossible as this was a metal aircraft. Unlike the Wellington, Mosquito or Hurricane which were partly timber and canvas.
andyK
Other mistake: When the pilot of the Spitfire is shown ditching into the water, his engine is windmilling at high RPM as he impacts the water. This would have resulted in all of the prop blade tips being bent backwards; however, as it shows him trying to escape the sinking airplane, the prop blades are perfectly straight.
Other mistake: In a scene where the commanding marine officer stands on the mole in a close-up shot, black smoke is rising from sky out of nowhere. Looks like the FX guys forgot to delete the particle effect after deciding to not show a boat with its exhausts in the background.
Join the mailing list
Separate from membership, this is to get updates about mistakes in recent releases. Addresses are not passed on to any third party, and are used solely for direct communication from this site. You can unsubscribe at any time.