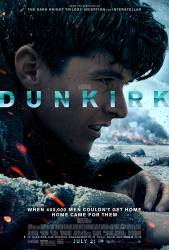 Corrected entry: At one point they pan in on Harry Stiles after being wet and the water dripping from his head is white, due to the product in his hair.
Corrected entry: When the Spitfire ditches in the Channel, it floats for a while. Most unlikely. The Merlin engine weighed over three quarters of a ton and would have dragged the aircraft down almost immediately.
cachalot
Corrected entry: As the last Spitfire runs out of fuel, it continues to fly along the beach; then apparently turns around and flies the opposite direction along the beach still maintaining his steady low altitude. This is an impossible feat as distance flown (and any turn without power) results in loss of altitude.
Corrected entry: When asked whether he had a gun, Cillian Murphy says he had a .303. As an officer, he would have carried a pistol but not a rifle. It was not until later in the war that British officers began to carry weapons other than sidearms, and even then it was usually SMGs and not rifles.
Necrothesp
Corrected entry: Generally the clothes are not 100% of WWII. We see a lot of hats and head protection which didn't exist at that time. Also the holsters for the side guns were all closed and not open like in the movie.
Corrected entry: At the beginning of the movie, there is a timber factory with nice timber on a lot of staples, this is something that was not possible at that time of the war. All the timber had been used.
Corrected entry: We see the Royal Navy requisitioning small boats in harbour and crewing them with naval personnel. Rather than wait for this to happen, Mark Rylance decides to set sail for Dunkirk himself. However, when the flotilla of other small craft are seen, none of them are crewed by navy personnel.
Corrected entry: In the scene at the end of the film featuring a Spitfire that has run out of fuel, we see the plane with the propeller stopped but in the next shot, it's slowly rotating. The next shot shows it stopped again but in the next shot, it's (once again) slowly rotating.
Moggypa
Corrected entry: When the 2 actors are carrying the injured soldier to the ship, when crossing the sand, the camera tracks are visible behind them.
peter_mckinlay
Join the mailing list
Separate from membership, this is to get updates about mistakes in recent releases. Addresses are not passed on to any third party, and are used solely for direct communication from this site. You can unsubscribe at any time.