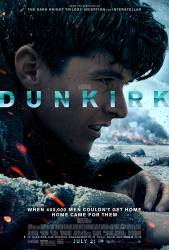 New this month Continuity mistake: At the start the damage to the wooden gates changes between shots. (00:02:10)
A Demon
Continuity mistake: When the Stukas are shown bombing the beach, they drop a single bomb, but from beach level, you see sticks of bombs landing.
freedom2006
Continuity mistake: There's a repeated issue with weather continuity throughout the movie. Many scenes cut between daylight, sunset and cloudy weather literally seconds apart. This has nothing to do with the particular time structure of the movie, since it happens between shots and reverse shots of the same scenes. These inconsistencies are particularly obvious at the opening scene, at the Stuka bombing and at the rescue of the shivering soldier. In these scenes, weather turns from heavily cloudy to fully sunny just from one shot to the next. (00:26:20)
Fronk
Continuity mistake: As the lone Spitfire trails and attacks the German bomber, he hits the right engine, which starts smoking but the trail quickly fades. He then hits the left, which smokes a lot. We then see the same attack from below, and from this angle the both engines are smoking equally badly.
Continuity mistake: When the two British soldiers are exchanging a bottle of wine, it's full in one shot but when given to the other soldier it's suddenly less so.
Join the mailing list
Separate from membership, this is to get updates about mistakes in recent releases. Addresses are not passed on to any third party, and are used solely for direct communication from this site. You can unsubscribe at any time.