The Patrol - S1-E8
Question: Why did Liebgott tell Webster that Malarkey was getting a battlefield commission?
More Band of Brothers questions
Question: At the end of the last ever episode, when Claire is taking the family photo, Nate whispers in her ear 'You can't take a picture unless it's already gone.' What does he mean by that?
More Six Feet Under questions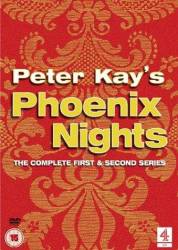 Question: In the very first scene we hear Chorley FM, the DJ sounds a lot like Peter Kay. Is it him or am I wrong?
More Phoenix Nights questions
More Scrubs questions
More Star Trek: Enterprise questions
Day 6: 4:00 AM - 5:00 AM - S6-E23
Question: When VP Daniels and Tom are in the oval office talking about K Hayes and B Buchanan, as Tom leaves the room it cuts to a close up of VP Daniels. Just behind him is a photograph in a frame where the photo somehow moves? Was this intentional, as it caught my eye and I cannot explain it.
Chickenwrap
More 24 questions
Odd Jobs / Movie Magic - S3-E2
Question: At the end of Movie Magic, Trixie and the 2 boys that were with her (who said they made their movie because they were bored) said that comedy is the lowest form of entertainment next to animation. What are all the forms of entertainment, and please put them in order from lowest to highest or vice versa?
More The Fairly OddParents questions
More Smallville questions
Question: In the first part of Jr's graduation episode, after Michael says "Let's be nice babe" What does Claire say? I can't make out what her joke is. I thought it was something to do with Vanessa since Jay just said something about her.
THE GAMER NEXT DOOR
More My Wife and Kids questions
Question: I remember an episode where Barbara-Jean gets the same hairstyle Reba has. Can someone tell me which episode this is?
More Reba questions
Initiation - S3-E1
Question: In this show, Green Lantern is a black guy with a different name. What happened to Hal Jordan and why is he not Green Lantern any more?
Quantom X
More Justice League questions
Question: Why is the only word that Kirby can say through the entire show is "Poyo"? And is there any relation to the Spanish word "pollo" of the same pronunciation that means chicken?
Quantom X
More Kirby: Right Back at Ya! questions
Question: The show's theme song is played at the start of each episode. For the life of me, I cannot understand the first line. "...back to the past, Samurai Jack." What is that first line of that theme?
Kimberly Klaus
More Samurai Jack questions
Doppelganger - S1-E5
Question: When discussing the bomb plot, there's something odd with the audio. When Sloane's talking, at two points he says "UCO", but it's obviously been dubbed over - the shot's from behind but the tone is different. Arguably just post-production looping, but because the pitch is so noticeably different I'm assuming they mentioned some organisation they couldn't refer to, so changed it. Can't be the UN, as they mention that earlier in the scene. Anyone know why that was changed? (00:35:05)
Jon Sandys
More Alias questions
Question: If David Brent is such a poor unresponsible boss and no good at his job as he is portrayed, then how did he get into such a good position of being a branch manager in charge of so many staff?
pierpp
More The Office questions