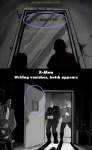 Continuity mistake: In the flashback during Magneto's memorial, when the Nazis are approaching his home it says "Lehnsherr" on the door. After they kick the door open, the writing on the door has disappeared and either a hatch or a small window has appeared on the door from nowhere.
00:06:20
Phaneron
Continuity mistake: When Fabian Cortez is scapegoating Gambit in front of the mob, he grabs him by the blue clothing that lines the body armor on his chest. When he says to Gambit "Mark my words X-Man..." the blue clothing is now the same brown color as Gambit's trenchcoat.
00:05:20
Phaneron
Join the mailing list
Addresses are not passed on to any third party, and are used solely for direct communication from this site. You can unsubscribe at any time.