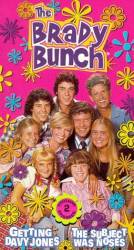 1 mistake in The Not-So-Ugly Duckling
The Not-So-Ugly Duckling - S2-E9
Continuity mistake: When Jan comes home and tells her parents that Clark didn't notice her at school, she's wearing a white blouse with a floral design and a red ribbon in her hair, but when she gets to her bedroom and accuses Marcia, she's wearing a striped blouse and a light green hair ribbon. Then when Jan talks to Greg she's wearing a green tee shirt and a dark green ribbon, but when she asks permission to go to the store she's back in the striped blouse and light green ribbon.
Super Grover
Join the mailing list
Separate from membership, this is to get updates about mistakes in recent releases. Addresses are not passed on to any third party, and are used solely for direct communication from this site. You can unsubscribe at any time.