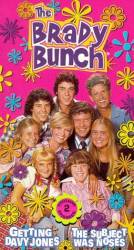 2 mistakes in Lost Locket, Found Locket
Lost Locket, Found Locket - S1-E25
Continuity mistake: When they are getting ready for the reenactment of the night when Jan lost her locket, Greg is about to eat an apple when the boys walk into their room. When Greg sits down, his apple is mostly finished.
Join the mailing list
Separate from membership, this is to get updates about mistakes in recent releases. Addresses are not passed on to any third party, and are used solely for direct communication from this site. You can unsubscribe at any time.