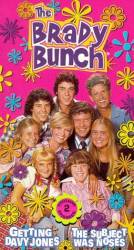 0 mistakes in
Every Boy Does It Once
Bobby Brady: Mom always says not to play ball in the house.
More quotes from The Brady Bunch
Trivia: Two of the "Sound of Music" kids had guest roles: Nicholas Hammond, who played the oldest son Friedrich, was in "The Subject Was Noses", and Kym Karath, who played the youngest child Gretl, was in "Cyrano de Brady".
More trivia for The Brady Bunch
Question: In season 2, there were 5 episodes made without one of the kids appearing in the episode. (Marcia, Jan, Cindy, Peter, and Bobby were each absent one episode). What was the reason behind this?
More questions & answers from The Brady Bunch