Factual error: At the end of the film Rainwood has established his innocence of the drug charges and is happily back at work as a senior mechanic for a large airline. However, part of the sentencing and plea bargain protocols at his arraignment is his previous conviction on a lesser drug charge years before. It goes without saying that he did not advise his employers of this when he started work for them - no airline in the world (even pre 9/11) would hire someone with a drug conviction on their record! Now this is out in the open the airline knows that Rainwood is a convicted drug user (on the lesser, legitimate charge) and that he lied on his original job application. They wouldn't hire him again to sweep the floors.
More An Innocent Man factual errors
Factual error: When the air hose on the truck is severed, the brakes release. In reality, on an air-braking system, if the air hose is severed, the brakes lock on, as a safety measure.
wizard_of_gore
More Licence to Kill factual errors
Factual error: After the first victim they claim to have found a shell with 'Megan Turner' on it. That's not possible as we see Ron Silver fire at the victim and immediatley run away. If it had been an automatic then the gun would eject the shell, but it's a revolver, which doesn't eject shells.
More Blue Steel factual errors
Factual error: Hooch is a french mastiff. The dog he gets pregnant is a collie. Different breed dogs do not make purebred puppies. Hooch's pups would be part collie, part mastiff. In the end of the movie, one pup is pure mastiff like hooch and 4 are pure collies like their mother.
More Turner & Hooch factual errors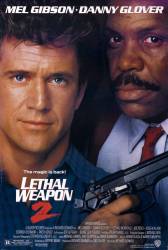 Factual error: In the scene where Riggs drops the container, there were only two buttons on the control. I've never seen a hoist with a drop button, just an up and down and they are pretty slow. (01:39:25)
More Lethal Weapon 2 factual errors
Factual error: The motel's billboard advertised HBO, which did not exist in 1971 when the movie was set.
More Drugstore Cowboy factual errors
Factual error: While Fletch is riding with the bikers, they stop at a stop sign where a family in a station wagon roll up their windows in fear. A sign at a service center in the background is the Castaic Junction, which is in the greater Los Angeles area. The movie is supposed to be taking place in Louisiana. (01:12:35)
More Fletch Lives factual errors
Factual error: After the scene where Frank Castle steals the bus to rescue the children, the mobsters are firing at the bus. Not one bullet pierces a hole in the bus. Who knew Public Transit was bullet proof?
More The Punisher factual errors
Factual error: When Bigfoot is about to drive through the car dealership it squeals tires with a high pitched squeal. IF it could spin those big meats it would be a deep hound dog like bark. (01:40:40)
More Road House factual errors
Factual error: When Sylvester Stallone is being thrown in a cell for 6 weeks (in his underpants only), he got out of it (after 6 weeks) freshly shaved.
More Lock Up factual errors
Factual error: It was so nice of the prison to give Tango and Cash the belts (with brass buckles) that they used to escape. All prisons give their inmates belts, don't they? (00:55:00)
More Tango & Cash factual errors
Factual error: For someone who has been given one more month (minus the two weeks since her escape from the closed ward) because of a brain tumor Eddie looks way too healthy. (01:03:20)
More Homer & Eddie factual errors
Factual error: In the opening scene when the guys are shooting craps, Little Quick shoots the large man squarely between the eyes. The man wasn't looking downward and it would have been impossible for a 4 foot tall kid to shoot a 6 foot tall man at that angle squarely in the forehead.
More Harlem Nights factual errors
Factual error: Three different characters (including two police officers) describe the car driven by the bad guys as being a maroon Ford wagon. Yet in the two scenes showing the car, it's a Pontiac.
More Dead Bang factual errors
Factual error: The Bat signal at the end would not show up like it did in the film. In order to be as clear as it was, as well as visible, it would actually have to shine onto a surface, not just the clouds. They made this same mistake in Returns, but made it believable in the clouds (just not as sharp) in Forever.
More Batman factual errors