Revealing mistake: In several scenes Superman has fillings in his teeth.
More Superman mistakes
Visible crew/equipment: As the Tin Man gets to the end of his song, he's dancing in front of three mirrors. If you look past him as he's centered in the middle mirror, you can see the camera lens looking out of the canvas at him.
Movie Nut
More The Wiz mistakes
Continuity mistake: As Kenny is riding the bike, to try and grab on to the ladder at the back of the camper, the rear side-marker light on the camper is missing its red lens cover. In subsequent shots the red cover is there, and then vanishes again.
More Corvette Summer mistakes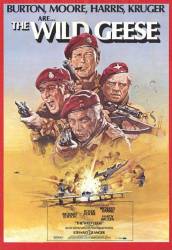 Revealing mistake: During the fight after Witty has been killed, Peiter throws a grenade that lands in a bush on the right of the path up which the enemy are advancing. However, the resulting explosion comes from the centre of the path and not as far away as the grenade flew.
More The Wild Geese mistakes
Continuity mistake: When Tony and Tia are being driven to their hotel, the same footage is shown behind them a few times e.g. A truck turning off the road when their driver shouts at an overtaking driver and a few minutes later when he shouts at the same driver again.
Heather Benton
More Return from Witch Mountain mistakes
Continuity mistake: Towards the end of the movie, after FVB (Aerosmith) sings, and Strawberry Fields (Sandy Farina) falls off of the platform. She lands on her front, but when Billy Shears (Peter Frampton) runs down the stairs to her, she is on her back.
mrslaura
More Sgt. Pepper's Lonely Hearts Club Band mistakes
Continuity mistake: When Stella is put into the machine to revive her after being frozen, her head is tilted to the right when she goes in, but is tilted to the left when the shot changes.
GalahadFairlight
More Starcrash mistakes
Visible crew/equipment: When Travis and Jessie investigate what was reflecting sunlight, a Kodiak Bear attacks. When Jessie climbs a tree to get away from the bear, you can see a hand reaching down to help him get out of harm's way. (01:15:00 - 01:16:00)
Regulus
More The Sea Gypsies mistakes
Revealing mistake: In the opening scene, the tomato in the sink starts moving and as it comes up toward the rim, you can see a person's finger as they toss the tomato in, revealing the whole thing is run in reverse.
Movie Nut
More Attack of the Killer Tomatoes! mistakes