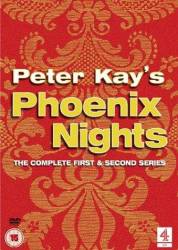 4 mistakes in show generally
Continuity mistake: During the last episode of the first series doorman Paddy uses his hair spray to give him fuller locks. But at the start of the second series his hair is back to its normal style even though the second series starts where the first series ended with the club on fire.
Revealing mistake: If you look at Les out of Les Alano's' drumming, several time throughout the whole show, you can see he is miming and his stick is not even close to the actual drum.
Continuity mistake: Between series one and two, and even more so in Max and Paddy's road to nowhere, Max's voice changes from really deep to normal depending on the series and sometimes the episode.
Other mistake: How come not one single person at the Phoenix Club knew Max's surname, namely Bygraves, during his time as a doorman? This only came to light in the "Road to Nowhere" spin off.
Join the mailing list
Separate from membership, this is to get updates about mistakes in recent releases. Addresses are not passed on to any third party, and are used solely for direct communication from this site. You can unsubscribe at any time.