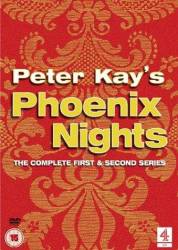 Continuity mistake: When Brian is having a go at the person about the inflatable, that person then sits on the "love length" and says it's optional, the camera cuts to Brian and co then it cuts back to the person and for some strange reason he has some paper eyes (for Sammy Snake)in his hands. They couldn't have been in his pockets because the paper eyes weren't creased.
Continuity mistake: During the last episode of the first series doorman Paddy uses his hair spray to give him fuller locks. But at the start of the second series his hair is back to its normal style even though the second series starts where the first series ended with the club on fire.
Continuity mistake: When Ray Von is walking towards the van with the inflatable in, there is only one person in the van, the driver. But when the shot changes and he is by the driver's window of the van, there is a passenger in the van also.
Continuity mistake: Between series one and two, and even more so in Max and Paddy's road to nowhere, Max's voice changes from really deep to normal depending on the series and sometimes the episode.
Continuity mistake: In the scene where Brian is in the courtyard talking to Keny senior, he quickly changes from his shopmobility to his wheelchair. This happens between the shot of Keny on the roof. [It is stated in the commentary that it is part of a storyline that was abandoned (hence still a mistake, but with a reason). The idea was that every time you turned your back on Brian he could actually walk, hence him getting into his chair so quickly. This storyline was abandoned though later bought to light when Brian was investigated by the DSS.]
Join the mailing list
Separate from membership, this is to get updates about mistakes in recent releases. Addresses are not passed on to any third party, and are used solely for direct communication from this site. You can unsubscribe at any time.